Fáilte an Phríomhoide
Principal's Welcome
A Chairde,
Welcome to Naíscoil Dhoire and Bunscoil Cholmcille internet site. Naíscoil Dhoire and Bunscoil Cholmcille are Irish-Medium schools situated on Steelstown Road in Derry city. I hope this site will give you some small insight into the daily life of the school community as well as providing up-to-date information for our whole school community. Many visitors and families comment on the family atmosphere within the school.
Our children are fully immersed in Irish as they acquire the language particularly in the early years at school. The linguistic skills acquired in the early school years through Irish transfer to the learning of English which they begin at the end of Year 3.
The school support parents in their role as the primary educators of their children by providing additional experiences such as homework clubs, sports, music and crafts clubs as well as a range of workshops.
While Naíscoil Dhoire and Bunscoil Cholmcille are Catholic schools, children of other faiths are most welcome and are assured complete religious respect. Our aspiration is every child will develop spiritually, morally and academically and that they will all achieve their maximum potential so they shall be prepared for the next stage of their lives.
We sincerely hope your child shall be content and happy in our school. You are providing a wonderful opportunity for your child to become bilingual early in her/his life, something that can remain with her/him throughout life and can certainly be advantageous as (s)he matures.
Máire Mhic Lochlainn
Príomhoide
Upcoming Events...
Thursday, 8th June 2023
Rang 7 Fan The Flame Mass
Wednesday, 14th June 2023
Sports Day
Latest Photographs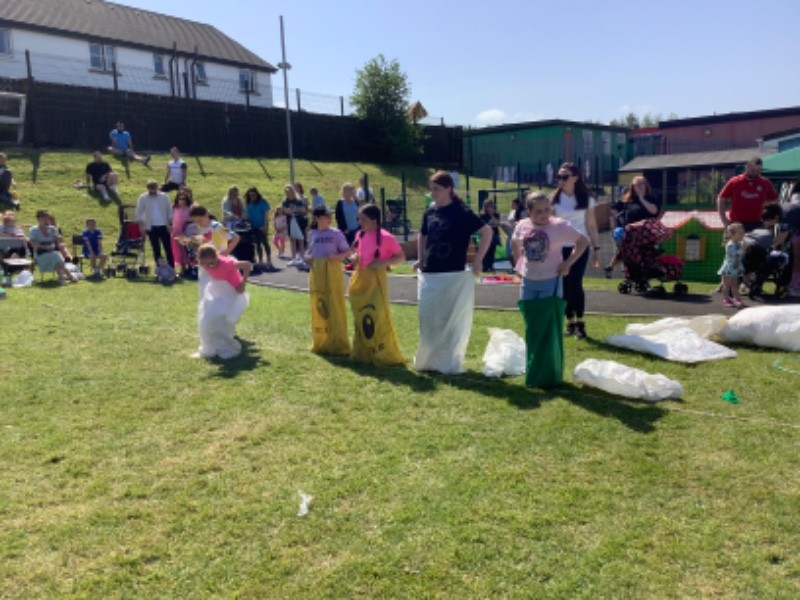 Bunscoil Cholmcille & Naíscoil Dhoire, 40A Steelstown Rd, Derry, BT48 8EX Phone: (028) 7135 9648